Federico Focher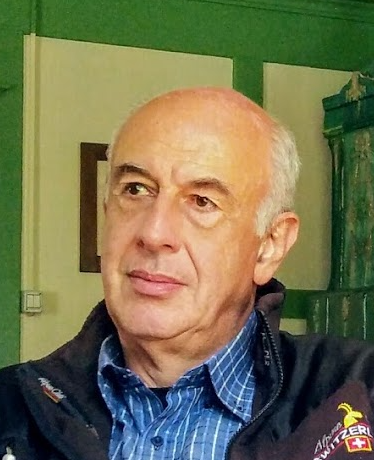 Istituto di Genetica Molecolare "Luigi Luca Cavalli-Sforza" – CNR
Via Abbiategrasso, 207
27100 Pavia
Tel: 0382 546352

E-mail: federico.focher@igm.cnr.it


Curriculum Vitae – Download
Elenco completo delle pubblicazioni – Download


Attività di ricerca
Federico Focher si è laureato presso l'Università di Pavia in Scienze Biologiche nel 1980. Conseguito il Perfezionamento in Genetica nel 1984, ha svolto attività di ricerca presso l'Istituto di Genetica Biochimica ed Evoluzionistica del CNR di Pavia (ora Istituto di Genetica Molecolare), il Department of Pharmacology and Biochemistry di Zurigo (1987-88) e la Massachusetts Medical School di Worcester (MA), USA (1993). I suoi interessi scientifici sono focalizzati sullo studio degli enzimi coinvolti nella sintesi del DNA umano e virale (DNA polimerasi, nucleoside chinasi, uracil-DNA glicosilasi, dUTPasi, etc.) e, in particolare, sulla ricerca di potenziali farmaci antineoplastici e antivirali. Da anni affianca alla ricerca scientifica in laboratorio lo studio della Storia del pensiero biologico. Attualmente è Dirigente di Ricerca presso l'Istituto di Genetica Molecolare del CNR di Pavia.
Autore o coautore di un centinaio di articoli scientifici su riviste internazionali e di alcuni saggi di divulgazione storico-scientifica, ha anche pubblicato sei libri per i tipi Bollati-Boringhieri, Il prato, Ibis e Pavia University Press, sulle figure di Alfred Russel Wallace, Charles Darwin, Alexander von Humboldt, Pierre-Louis Moreau de Maupertuis e Gregor Mendel. Riconosciuta la sua competenza professionale nel campo della Storia della Biologia, dal 2012 ad oggi è anche Professore a contratto di "Storia del Pensiero Biologico" presso l'Università di Pavia.
Progetti di ricerca
DSB.AD008.125 / Development of skills in popular science (english)

Pubblicazioni Recenti
2020
Charles Darwin and Alfred Russel Wallace 'followers' of Alexander von Humboldt Journal Article
In: Bollettino dei Musei e degli Istituti biologici dell'Università di Genova (1969), 2 (1), pp. 17-30, 2020.
The logic of life in Maupertuis: from Newtonian attraction to psychobiological determinism Journal Article
In: Biblioteca elettronica su Montesquieu e dintorni, 11 , 2020.
2019
Alla scoperta delle leggi della vita. Ritratti di Redi, Maupertuis, Trembley, von Humboldt, Wallace, Mendel Book
Casa Editrice Il Prato, Saonara, 2019, ISSN: 2037-9234.
2017
First dual AK/GSK-3beta inhibitors endowed with antioxidant properties as multifunctional, potential neuroprotective agents. Journal Article
In: European journal of medicinal chemistry, 138 , pp. 438-457, 2017.
2016
Biochemical and functional characterization of Plasmodium falciparum DNA polymerase delta. Journal Article
In: Malaria Journal, 15 (1), pp. 116, 2016.
Site-directed Mutagenesis of Key Residues Unveiled a Novel Allosteric Site on Human Adenosine Kinase for Pyrrolobenzoxa(thia)zepinone-Non-Nucleoside Inhibitors. Journal Article
In: Chemical Biology & Drug Design, 87 (1), pp. 112-120, 2016.
2015
Prodrugs of herpes simplex thymidine kinase inhibitors. Journal Article
In: Antiviral Chemistry & Chemotherapy, 24 (2), pp. 47-55, 2015.
2012
Due atei, un prete e un agnostico. Pranzo a casa Darwin Book
Il Prato, Saonara, 2012, ISSN: 2037-9234.
2009
Alexander von Humboldt. Schizzo biografico dal vivo" Book
Il Prato, Saonara, 2009, ISBN: 9788863360677.
2006
L'uomo che gettò nel panico Darwin. La vita e le scoperte di Alfred Russel Wallace. Book
Bollati Boringhieri, Torino, 2006, ISBN: 9788833916705.