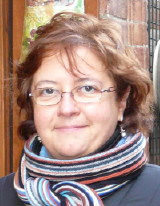 Antonella Lisa
Istituto di Genetica Molecolare "Luigi Luca Cavalli-Sforza"
Via Abbiategrasso, 207 – 27100 PAVIA
tel: +39 0382 546361
fax: +39 0382 546370
E-mail: antonella.lisa@igm.cnr.it

Curriculum e pubblicazioni

Attività di Ricerca:
Analisi statistica di sequenze molecolari

Studi di Genetica di Popolazioni

Analisi epidemiologiche e statistiche di dati biomedici

Sviluppo di strumenti bioinformatici per la gestione e l'analisi di dati "genome-wide"

Pubblicazioni Recenti
2020
GC-AG Introns Features in Long Non-coding and Protein-Coding Genes Suggest Their Role in Gene Expression Regulation Journal Article
In: Frontiers in Genetics - RNA, vol. 11, pp. 488-502, 2020.
2019
Identification of a novel antiviral micro-RNA targeting the NS1 protein of the H1N1 pandemic human influenza virus and a corresponding viral escape mutation. Journal Article
In: Antiviral research, vol. 171, pp. 104593, 2019.
Y-chromosome and Surname Analyses for Reconstructing Past Population Structures: The Sardinian Population as a Test Case. Journal Article
In: International journal of molecular sciences, vol. 20, no. 22, pp. e5763, 2019.
2018
Ripples on the surface. Surnames and genes in Sicily and Southern Italy. Journal Article
In: Annals of Human Biology, vol. 45, no. 1, pp. 57-65, 2018.
2017
Genetic evidence for a worldwide chaotic dispersion pattern of the arbovirus vector, Aedes albopictus. Journal Article
In: PLoS neglected tropical diseases, vol. 11, no. 1, pp. e0005332, 2017.
2015
An Association Rule Mining Approach to Discover lncRNAs Expression Patterns in Cancer Datasets. Journal Article
In: Biomed Research International, vol. 2015, pp. 146250, 2015.
Characterization of the biological processes shaping the genetic structure of the Italian population. Journal Article
In: BMC Genetics, vol. 16, pp. 132, 2015.
Consanguinity and late fertility: spatial analysis reveals positive association patterns. Journal Article
In: Annals of Human Genetics, vol. 79, no. 1, pp. 37-45, 2015.