Alessandra Montecucco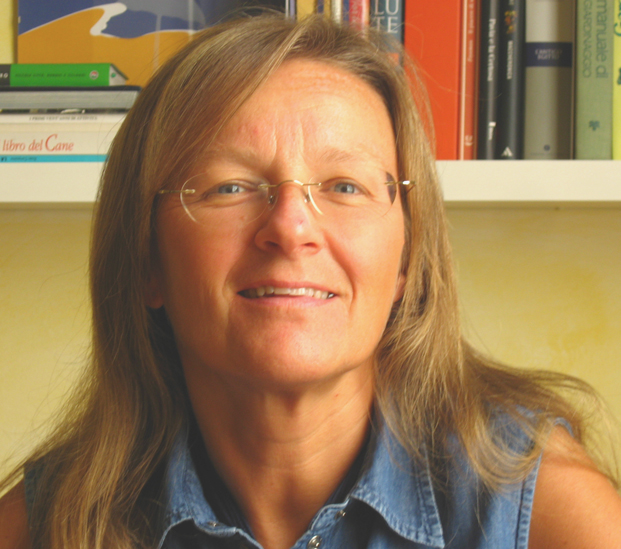 Istituto di Genetica Molecolare "Luigi Luca Cavalli-Sforza"
Via Abbiategrasso, 207 – 27100 PAVIA
tel: +39 0382 546351
E-mail: alessandra.montecucco@igm.cnr.it

Curriculum Vitae – Download

Elenco Completo delle Pubblicazioni – Download

Attività di Ricerca:
CARATTERIZZAZIONE BIOCHIMICA E FUNZIONALE DELLE DNA LIGASI ATP-DIPENDENTI
I risultati ottenuti nel mio laboratorio fanno della DNA ligasi I uno degli enzimi replicativi meglio caratterizzati dal punto di vista della regolazione post-traduzionale durante la progressione del ciclo cellulare e in risposta al danno sul DNA. Inoltre individuano un ruolo per le protein-chinasi ciclina-dipendenti nella modulazione dell'attività degli enzimi replicativi.
Attualmente stiamo utilizzando linee cellulari DNA ligasi I-difettive, prodotte e caratterizzate nel nostro laboratorio, come modello per studiare le interazioni tra replicazione, metabolismo dell'RNA e organizzazione della cromatina nella risposta cellulare allo stress replicativo.  
REPLICAZIONE DEL DNA E CICLO CELLULARE
Questa linea di ricerca è volta allo studio della organizzazione dinamica dei foci di replicazione che sono i distretti funzionale in cui avviene la replicazione del genoma. Per primi abbiamo caratterizzato un peptide segnale, presente nella DNA ligasi I, necessario e sufficiente per il reclutamento PCNA-dipendente di proteine ai foci di replicazione. Inoltre abbiamo dimostrato che alcuni farmaci impiegati nella terapia dei tumori agiscono disassemblando i foci di replicazione. Siamo interessati sia al controllo dei foci di replicazione durante la progressione del ciclo cellulare che agli effetti dell'attivazione delle vie di trasduzione del segnale di danno al DNA. La risposta cellulare al danno sul DNA, integrando il metabolismo degli acidi nucleici con il controllo del ciclo cellulare, ha notevoli implicazioni nella strategia delle terapie antitumorali.

Pubblicazioni Recenti
2020
Heat Shock Affects Mitotic Segregation of Human Chromosomes Bound to Stress-Induced Satellite III RNAs Journal Article
In: International journal of molecular sciences, 21 (8), pp. 2812, 2020.
2019
TSPYL2 is a novel regulator of SIRT1 and p300 activity in response to DNA damage. Journal Article
In: Cell death and differentiation, 26 (5), pp. 918-931, 2019.
2018
The Krebs Cycle Connection: Reciprocal Influence Between Alternative Splicing Programs and Cell Metabolism. Journal Article
In: Frontiers in oncology, 8 , pp. 408, 2018.
2017
A missense MT-ND5 mutation in differentiated Parkinson Disease cytoplasmic hybrid induces ROS-dependent DNA Damage Response amplified by DROSHA. Journal Article
In: Scientific reports, 7 (1), pp. 9528, 2017.
2016
DNA and RNA metabolism meet at chromatin to control genome stability Journal Article
In: Frontiers in Genetics, 7 , pp. 67, 2016.
2015
Chronic Replication Problems Impact Cell Morphology and Adhesion of DNA Ligase I Defective Cells. Journal Article
In: Plos One, 10 (7), pp. e0130561, 2015.
Molecular mechanisms of etoposide. Journal Article
In: EXCLI Journal, 14 , pp. 95-108, 2015.