Anna Garbelli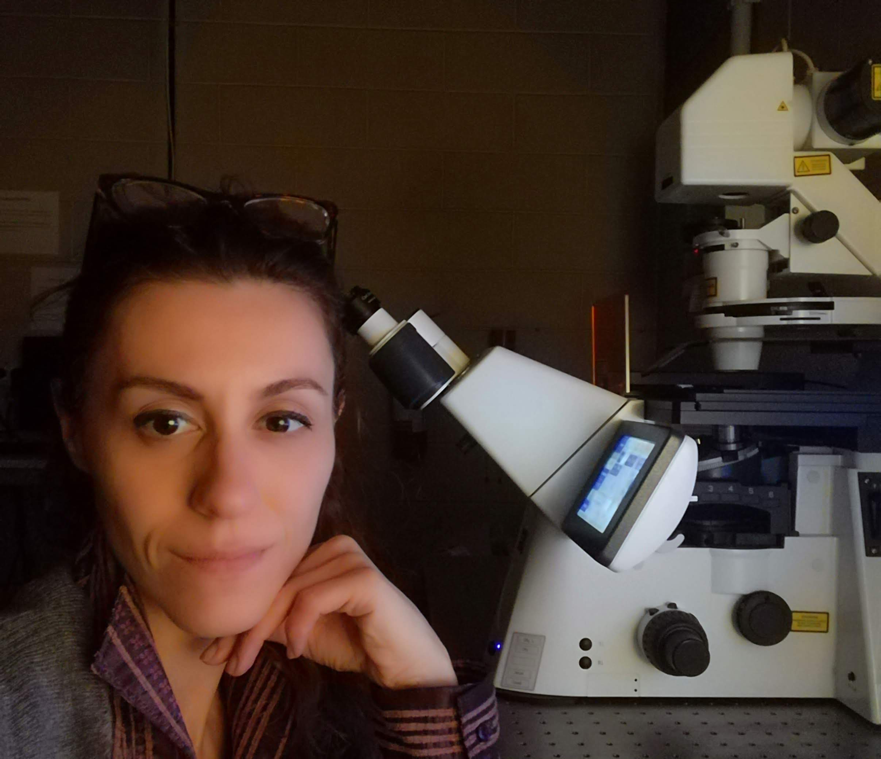 Istituto di Genetica Molecolare "Luigi Luca Cavalli-Sforza"
Via Abbiategrasso, 207 – 27100 PAVIA
tel: +39 0382 546343
E-mail: anna.garbelli@igm.cnr.it
Curriculum Vitae – Download

Elenco Completo delle Pubblicazioni – Download


Attività di Ricerca

Durante il Dottorato di Ricerca svolto presso IGM-CNR nel laboratorio di Enzimologia del DNA e Virologia Molecolare, diretto dal Dott. Giovanni Maga, mi sono occupata principalmente della caratterizzazione biochimica e biologica della proteina umana DDX3X, una RNA elicasi coinvolta in diverse infezioni virali, e di individuare specifici inibitori ad ampio spettro.
Durante il periodo di postdoc ho continuato ad occuarmi dello studio della proteina DDX3X, focalizzando la mia ricerca degli ultimi anni sull'instabilità genomica e in particolare ho indagato il ruolo di DDX3X in un meccanismo alternativo di rimozione di ribonucleotidi dal genoma.
Attualmente ricopro il ruolo di tecnico dell'imaging dell'Istituto e mi occupo di formare gli utenti interni e di supportare gli utenti, sia interni sia esterni all'IGM, durante l'acquisizione, il processamente e l'analisi delle immagini.
Competenze
Competenze professionali
Tecniche di biologia molecolare e cellulare, incluse colture cellulari batteriche ed eucariotiche (cellule tumorali e primarie), estratti cellulari e frazionamenti, immunoprecipitazioni in vivo e in vitro, saggi di citotossicità, immunofluorescenze, PCR, clonaggi in vettori procariotici ed eucariotici, mutazioni sito specifiche, analisi di Western Blot, real time PCR.
Tecniche di biochimica ed enzimologia, incluse espressione di protein in E. coli, purificazione di proteine ricombinanti mediante FPLC, saggi biochimici di cinetica enzimatica e determinazione ed analisi di meccanismi d'azione di inibitori, analisi mediante FRET.
Utilizzo di microscopi a fluorescenza e confocale, attività di supporto per acquisizione, processamento ed analisi di immagine.
Competenze Informatiche
Windows Office
GraphPad Prism
Databases Informatici (EndNote, Pubmed, BLAST)
Inkscape
Programmi di analisi di immagini (ImageJ, Zen blue edition software, Photoshop)
Progetti di Ricerca
RNA-in-DNA: specialized DNApolymerases in the establishment and (in)stability of a hybrid genome

INnovazione, nuovi modelli TEcnologici e Reti per curare la SLA

Pubblicazioni Recenti
2021
A Role for Human DNA Polymerase lambda in Alternative Lengthening of Telomeres Journal Article
In: International journal of molecular sciences, 22 (5), pp. 2365, 2021.
Targeting DDX3X Helicase Activity with BA103 Shows Promising Therapeutic Effects in Preclinical Glioblastoma Models Journal Article
In: Cancers (Basel), 13 (21), pp. 5569, 2021.
2020
Unique Domain for a Unique Target: Selective Inhibitors of Host Cell DDX3X to Fight Emerging Viruses Journal Article
In: Journal of medicinal chemistry, 63 (17), pp. 9876-9877, 2020.
DDX3X Inhibitors, an Effective Way to Overcome HIV-1 Resistance Targeting Host Proteins Journal Article
In: European journal of medicinal chemistry, 200 , pp. 112319, 2020.
Exploring the Implication of DDX3X in DENV Infection: Discovery of the First-in-Class DDX3X Fluorescent Inhibitor Journal Article
In: ACS medicinal chemistry letters, 11 (5), pp. 956-962, 2020.
Novel alternative ribonucleotide excision repair pathways in human cells by DDX3X and specialized DNA polymerases. Journal Article
In: Nucleic acids research, 48 (20), pp. 11551-11565, 2020.
Novel Insights into the Biochemical Mechanism of CK1epsilon and its Functional Interplay with DDX3X Journal Article
In: International journal of molecular sciences, 21 (17), pp. E6449, 2020.
2019
DDX3X Helicase Inhibitors as a New Strategy To Fight the West Nile Virus Infection. Journal Article
In: Journal of medicinal chemistry, 62 (5), pp. 2333-2347, 2019.
Synthesis and Antiviral Activity of Novel 1,3,4-Thiadiazole Inhibitors of DDX3X. Journal Article
In: Molecules, 24 (21), pp. pii: E3988, 2019.
2017
How to win the HIV-1 drug resistance hurdle race: running faster or jumping higher? Journal Article
In: Biochemical journal, 474 (10), pp. 1559-1577, 2017.
2016
Human DDX3 protein is a valuable target to develop broad spectrum antiviral agents. Journal Article
In: Proceedings of the National Academy of Sciences of the United States of America, 113 (9), pp. 5388-5393, 2016.
2015
Homology Model-Based Virtual Screening for the Identification of Human Helicase DDX3 Inhibitors. Journal Article
In: Journal of Chemical Information and Modeling, 55 (11), pp. 2443-2454, 2015.