Elisabetta Mattioli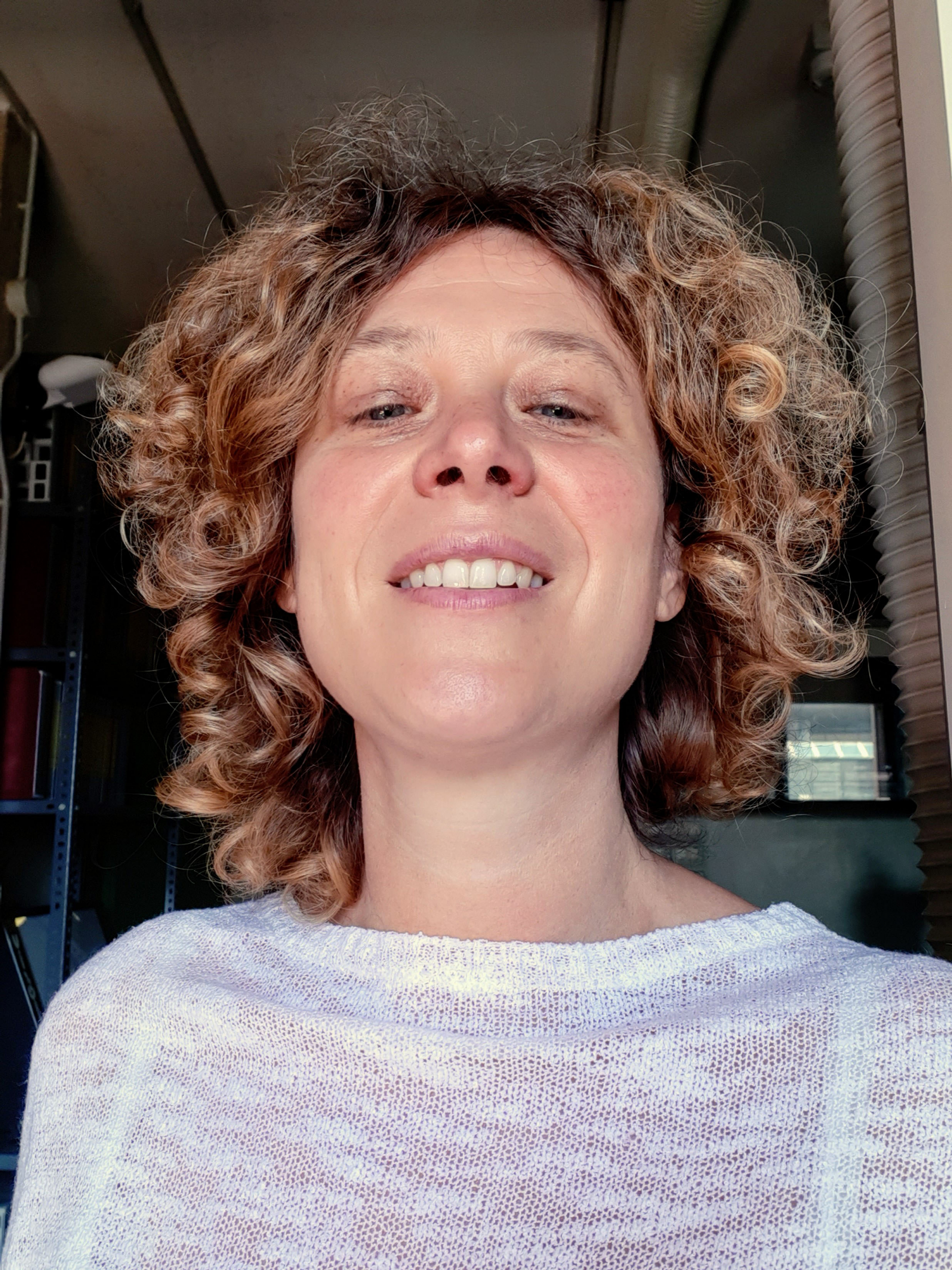 Istituto di Genetica Molecolare "Luigi Luca Cavalli-Sforza" – Sede di Bologna
c/o Istituto Ortopedico Rizzoli -via di Barbiano 1/10
40136 Bologna 
Phone: +39 051 6366768
E-mail: e.mattioli@area.cnr.bo.it


Curriculum Vitae – Download
Elenco completo delle pubblicazioni – Download


Attività di ricerca
L'attività di ricerca che sto portando avanti, è finalizzata alla comprensione dei meccanismi molecolari coinvolti nell'insorgenza delle laminopatie: un gruppo di patologie genetiche rare, per la maggior parte causate da mutazioni a livello del gene LMNA che codifica per la lamina A/C. Numerosi sono i ruoli funzionali attribuiti alla lamina A/C nel corso degli anni, tra cui la capacità di regolare l'attività di enzimi responsabili delle modificazioni epigenetiche della cromatina. Attualmente, sto studiando il coinvolgimento della lamina A/C nella regolazione epigenetica per comprendere come queste relazioni influenzino l'organizzazione della cromatina e la conseguente espressione genica.
Progetti di ricerca
Deflazacort TREATment in LMNArelated congenital muscular dystrophy: study of clinical effectiveness and search for reliable biomarkers. Ente fin. AIFA

Studio del Cross-talk Tra Citochine Infiammatorie e Progerina in cellule da Progeria di Hutchinson-Gilford – CYTO-HGPS. Ente fin: AIPROSAB

Improving the quality of life in Progeria: a first trial in the murine LMNA G609G/G609G model. Ente fin. PRF-Progeria Research Foundation

Gruppo di ricerca
MECCANISMI FONDAMENTALI NELLA FUNZIONE DELLA MEMBRANA NUCLEARE
Giovanna Lattanzi , Cristina Capanni, Vittoria Cenni ,Francesca Chiarini, Camilla Evangelisti, Stefano Squarzoni
MECCANISMI PATOGENETICI NELLE LAMINOPATIE
Giovanna Lattanzi,Cristina Capanni, Vittoria Cenni, Elisa Schena, Davide Andrenacci, Stefano Squarzoni

Pubblicazioni Recenti
2021
Interleukin-6 neutralization ameliorates symptoms in prematurely aged mice. Journal Article
Aging Cell, 20 (1), pp. e13285, 2021.
2020
Emerin Phosphorylation during the Early Phase of the Oxidative Stress Response Influences Emerin-BAF Interaction and BAF Nuclear Localization Journal Article
Cells, 9 (6), pp. 1415, 2020.
Lamin A and Prelamin A Counteract Migration of Osteosarcoma Cells Journal Article
Cells, 9 (3), pp. 774, 2020.
Lamin A Involvement in Ageing Processes Journal Article
Ageing research reviews, 62 , pp. 101073, 2020.
PCAF Involvement in Lamin A/C-HDAC2 Interplay during the Early Phase of Muscle Differentiation Journal Article
Cells, 9 (7), pp. E1735, 2020.
2019
Altered adipocyte differentiation and unbalanced autophagy in type 2 Familial Partial Lipodystrophy: an in vitro and in vivo study of adipose tissue browning. Journal Article
Experimental & molecular medicine., 51 (8), pp. 89, 2019.
Statins and Histone Deacetylase Inhibitors Affect Lamin A/C - Histone Deacetylase 2 Interaction in Human Cells. Journal Article
Frontiers in cell and developmental biology, 7 , pp. 6, 2019.
2018
Altered modulation of lamin A/C-HDAC2 interaction and p21 expression during oxidative stress response in HGPS. Journal Article
Aging cell, 17 (5), pp. e1282, 2018.
Lamins and bone disorders: current understanding and perspectives. Journal Article
Oncotarget, 9 (32), pp. 22817-22831, 2018.
Network assessment of demethylation treatment in melanoma: Differential transcriptome-methylome and antigen profile signatures. Journal Article
Plos One, 13 (11), pp. e0206686, 2018.
Samp1 Mislocalization in Emery-Dreifuss Muscular Dystrophy. Journal Article
Cells, 7 (10), pp. pii: E170, 2018.
2014
Diverse lamin-dependent mechanisms interact to control chromatin dynamics: Focus on laminopathies Journal Article
Nucleus, 5 , pp. 427-440, 2014, ISSN: 1949-1034.
Lamins are rapamycin targets that impact human longevity: A study in centenarians Journal Article
Journal of Cell Science, 127 , pp. 147-157, 2014, ISSN: 1477-9137.
Muscular Dystrophy-Associated SUN1 and SUN2 Variants Disrupt Nuclear-Cytoskeletal Connections and Myonuclear Organization Journal Article
PLOS genetics, 10 , pp. e1004605, 2014, ISSN: 1553-7390.
Rapamycin treatment of Mandibuloacral Dysplasia cells rescues localization of chromatin-associated proteins and cell cycle dynamics Journal Article
Aging (Albany, N.Y. Online), 6 , pp. 755–770, 2014, ISSN: 1945-4589.