Anna Cleta Croce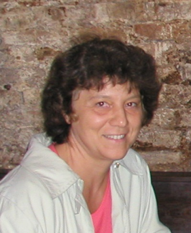 Istituto di Genetica Molecolare "Luigi Luca Cavalli-Sforza" – CNR
Via Abbiategrasso, 207
27100 Pavia
Tel: 0382 546327

E-mail: annacleta.croce@igm.cnr.it


Curriculum Vitae – Download
Elenco completo delle pubblicazioni – Download

Attività di ricerca
Esperienza – Spectroscopia e microspettrofluorimetria (UV-visibile, convenzionale, via fibra ottica), fluorescenza indotta e naturale o autofluorescenza. Sviluppo di procedure di analisi di fitting spettrale di autofluorescenza per la stima qualitativa, semiquantitativa di biomolecole attive come fluorofori endogeni di substrati biologici.
Scopo – Messa a punto di strategie diagnostiche minimamente invasive o non invasive in biomedicina,  "label free", basate sullo sfruttamento del fenomeno della fluorescenza di fluorofori endogeni, che agiscono come marcatori diagnostici intrinseci di funzioni biometaboliche di cellule, tessuti, organi in condizioni normali, alterate, patologiche (biopsia ottica di autofluorescenza).
Attività attuale – prevalentemente rivolta all'epatologia sperimentale per: i) ampliare le conoscenze di base sui meccanismi pato-fisiologici di stress e danno epatico da ischemia riperfusione e/o da accumulo di lipidi e sulla progressione da disordine metabolico a patologia severa (infiammazione, fibrosi, epatocarcinoma); ii) sviluppare procedure diagnostiche in tempo reale, economicamente convenienti a supporto del prescreening del grado di patologia e selezioni di casi da avviare a successivi accertamenti più approfonditi e/o per la sorveglianza della risposta della patologia al trattamento terapeutico.
L'analisi di autofluorescenza del tessuto epatico richiede un contatto diretto, può evidenziare alterazioni funzionali in chirurgia e nel trapianto, ed è anche alla base dello sviluppo di procedure automatizzate, rapide, senza coloranti, a costo efficace, di analisi istologica di biopsie epatiche, ma con annessi gli stessi rischi e disagio del paziente nella raccolta dei campioni di tessuto.
L'analisi dei fluorofori endogeni del siero è invece promettente per la messa a punto di strategie di valutazione in modo non invasivo delle funzionalità epatica nel mantenimento dell'omeostasi metabolica dell'organismo. L'utilità e i vantaggi dell'analisi di autofluorescenza del siero dipendono dalle funzioni svolte dal fegato per provvedere al deposito e mobilizzazione nel siero della vitamina A (retinolo) e di acidi grassi liberi, unitamente dalle proprietà di autofluorescenza di questi elementi e dal loro ruolo di mediatori di risposte di difesa o danno all'induzione di stress epatico. L'analisi del siero risponde quindi pienamente alla richiesta in biomedicina di ampliare il più possibile i pannelli di biomarcatori serici con significato diagnostico in epatologia e nella sorveglianza di alterazioni metaboliche sistemiche

Pubblicazioni Recenti
2021
Fluorescence excitation properties of bilirubin in solution and in serum. Journal Article
In: Journal of photochemistry and photobiology. B, Biology, 215 , pp. 112121, 2021.
Long-term cold storage preservation does not affect fatty livers from rats fed with a methionine and choline deficient diet Journal Article
In: Lipids in health and disease, 20 (1), pp. 78, 2021.
2020
Photobiology and Endogenous Fluorophore Based Applications, from Natural Environment to Biomedicine to Improve Human Life. Journal Article
In: Molecules, 25 (23), pp. 5707, 2020.
2019
Fatty Acid Desaturase Involvement in Non-Alcoholic Fatty Liver Disease Rat Models: Oxidative Stress Versus Metalloproteinases. Journal Article
In: Nutrients, 11 (4), pp. e799, 2019.
2018
Autofluorescence based optical biopsy: an effective diagnostic tool in hepatology. Journal Article
In: Liver International, 38 (7), pp. 1160-1174, 2018.
Liver Graft Susceptibility during Static Cold Storage and Dynamic Machine Perfusion: DCD versus Fatty Livers. Journal Article
In: International journal of molecular sciences, 19 (1), pp. 109, 2018.
Ozone Treatment of Grapes During Withering for Amarone Wine: A Multimodal Imaging and Spectroscopic Analysis. Journal Article
In: Microscopy and microanalysis, 24 (5), pp. 564-573, 2018.
Serum and Hepatic Autofluorescence as a Real-Time Diagnostic Tool for Early Cholestasis Assessment. Journal Article
In: International journal of molecular sciences., 19 (9), pp. pii: E2634, 2018.
2017
Autofluorescence Spectroscopy for Monitoring Metabolism in Animal Cells and Tissues. Journal Article
In: Methods in molecular biology - Histochemistry of Single Molecules Methods and Protocols, 1560 , pp. 15-43, 2017.
Fatty liver oxidative events monitored by autofluorescence optical diagnosis: a comparison between subnormothermic machine perfusion and conventional cold storage preservation. Journal Article
In: Hepatology research, 47 (7), pp. 668-682, 2017.
Fluorescing fatty acids in rat fatty liver models. Journal Article
In: Journal of biophotonics, 10 (6-7), pp. 905-910, 2017.
Lipids: Evergreen autofluorescent biomarkers for the liver functional profiling. Journal Article
In: European Journal of Histochemistry, 61 (2), pp. 2808, 2017.
NAD(P)H and Flavin Autofluorescence Correlation with ATP in Rat Livers with Different Metabolic Steady-State Conditions. Journal Article
In: Photochemistry and photobiology, 93 (6), pp. 1519-1524, 2017.
2016
Autofluorescence discrimination of metabolic fingerprint in nutritional and genetic fatty liver models. Journal Article
In: Journal of Photochemistry and Photobiology. B, Biology., 164 , pp. 13-20, 2016.
MCD diet-induced steatohepatitis is associated with alterations in asymmetric dimethylarginine (ADMA) and its transporters. Journal Article
In: Molecular and Cellular Biochemistry, 419 (1), pp. 147-155, 2016.
2015
New light in flavin autofluorescence. Journal Article
In: European Journal of Histochemistry , 59 (4), pp. 2576, 2015.